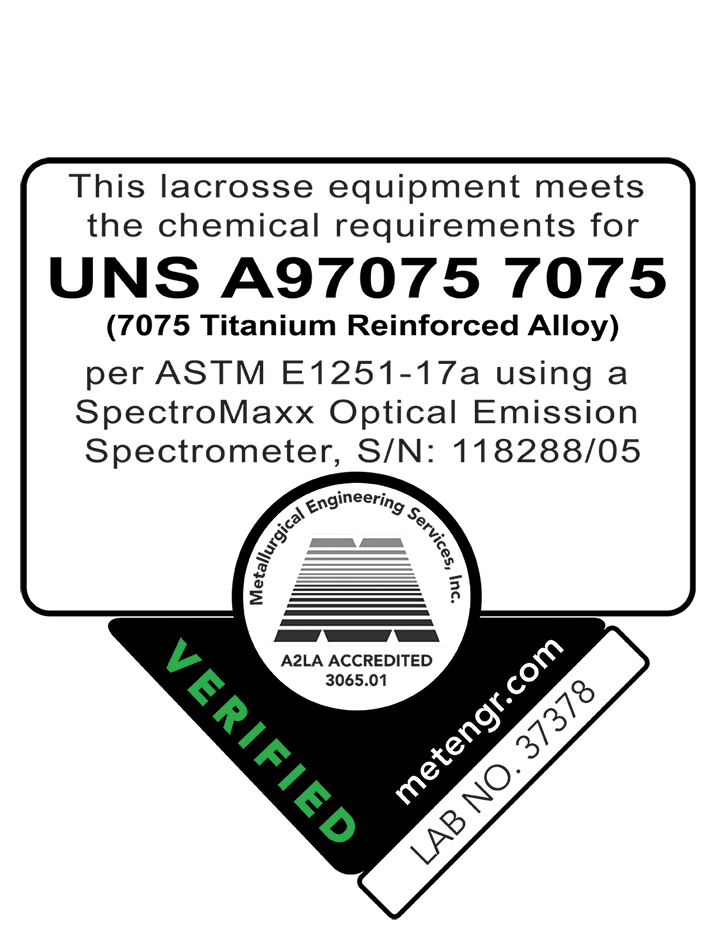 INDEPENDENTLY TESTED AND VERIFIED
"UNS A97075 7075" also known as "7075" is the metallurgical numeric designation for a titanium-reinforced alloy formula originally engineered for the aerospace industry. It is widely used in manufacturing sporting equipment for its exceptional strength-to-weight ratio. "7075" is used by every major lacrosse brand for such well known quality lacrosse shafts as the Stallion, SE7EN, Vandal, Swizzbeat, Surgeon, Command U, and many others, averaging in price from $69.00 to $99.00 and up.
We have made lacrosse handles for major lacrosse brands and major lacrosse retailers. We are the source - from research, development and design, to raw materials and extruding lacrosse shafts from our own molds, to shaping, coloring and finishing. From our factory warehouse they go directly to you, bypassing all the brands, distributors and retailers, passing huge savings on to you. That's how we're able to offer top quality lacrosse products at incredible prices. True factory-direct. A game changer. There is no better value on the market. "The best deal in lacrosse."
WHAT OUR CUSTOMERS ARE SAYING
"I sent a Savage X shaft over to some aerospace metal testing experts and it is exactly as Savage X advertises and very good quality. They are so inexpensive that I bought a bunch of extras, leave them in my truck, and when a kid breaks a shaft even on the other team I hand them one. Everyone is so used to spending hundreds on a shaft. Thanks to Savage X I have been able to upgrade our whole Youth Lacrosse program." - J.R.
"Let me start by saying THANK YOU! Thanks for making such an amazing product for such a great price. This allow me as a coach with a limited budget to get quality products in to the hand of my players that need them but cannot afford them." - J.C.
"My son absolutely loves this shaft he blamed his loss on Sunday to the fact he had to use his other stick lol." - D.L.
"I want to say thanks for a great product, at a great price, with ridiculously fast shipping! I ordered the Titanium 7 shaft for my son Thursday night and it arrived on Monday! I showed it to him and he said "that's the beefiest stick I've ever seen". He switched heads and took it to practice last night. Verdict? He loves it! Thanks again." - M.W.
"I'm a big fan of Savage X products. I've put your shafts in a lot of guys' hands here in Louisiana and they all love them. A quality product at a good price is really hard to find in the lacrosse world. I've been sourcing equipment for a long time and have seen how inflated prices are. As a coach and someone who is trying to grow the sport it drives me nuts that I can get kids interested, but when parents see the price they get scared off." - T.O.
"The cost of lacrosse equipment is out of control, especially from the big name companies. I was in a big box store the other day and walked through the football section. The top brand football helmets were less expensive than lacrosse helmets. If we want to continue to grow the game the cost of good equipment needs to come down." - M.S.
"Just got the shafts in and I honestly don't think I'm ever going to buy from a different company ever again. What you guys are doing is insane." - M.P.
"You guys hands down have the best product on the market and it's great to see all the love and hard work you put into it. I absolutely love the quality of the shafts and equipment you all produce! It's great to see companies making a fantastic lacrosse product that players and families don't have to break the bank with. Having personally used a number of your shafts, I could not think of another brand of shafts to get our players started with." - D.F.
"The fact that a legit lacrosse factory is selling shafts directly to coaches, parents and players is major lax news. You guys are completely disrupting the world of lacrosse. I hope everyone spreads the word about this. Savage X is one of the best things to ever happen in lacrosse." - G.L.